ZEneuro Zebrafish platform
About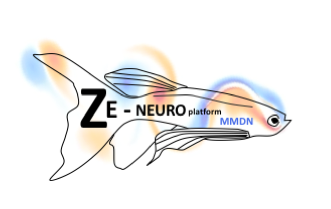 The ZeNeuro zebrafish platform within the MMDN laboratory allows the development of new in vivo models in order to understand the processes of neuronal degeneration.
We have established an expertise in the development and analysis of the central and peripheral nervous system and we currently host about 30 transgenic and mutant lines.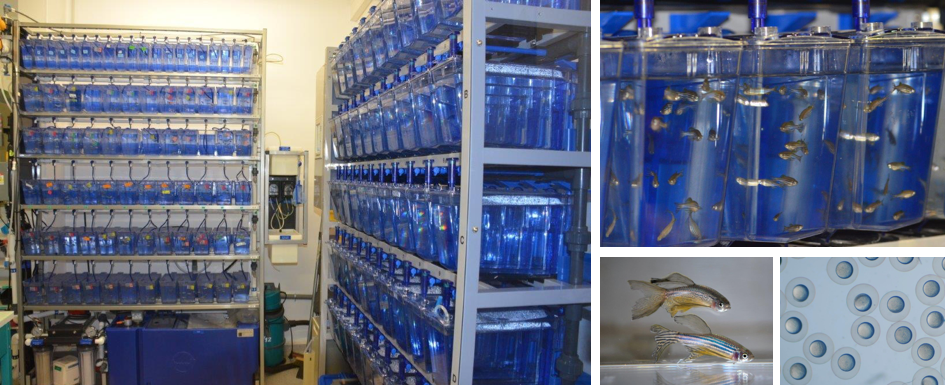 We follow the first steps of the neurotoxicity visible from two days of development in zebrafish. Neuronal damage can thus be followed directly at the cell and organism level, including behavioral analysis with the ZebraSens phenotyping platform. Our models allow us to test candidate proteins or compounds for therapeutic purposes.
This platform, which is accessible to the scientific community, has enabled us to develop various projects in collaboration:
Impact of pesticides and endocrine disruptors on the nervous system (V. Perrier, U1198)
Study of candidate genes in ALS (INM, Montpellier)
EStudy of candidate genes in optical neuropathies (INM, Montpellier)
On the other hand, this platform is involved in the functional validation of therapeutic agents in various fields:
Nanoparticles (IBMM, Montpellier)
Study of theranostic compounds (EPHE - University of Burgundy)
Validation of protective agents against aging, sirtuin inhibitors (EPHE- Centre de Recherche Saint-Antoine)
We ensure the supervision of students (Master Bio-Health/Biotin M1, M2, Master EPHE), engineers, doctoral students, post-doctoral students and researchers et chercheur(e)s for microinjection techniques at different stages, for the manipulation of embryos and larvae for imaging. In addition, all users are trained in good practices for the use of the model (zootechnics, experimentation, regulations).
| | |
| --- | --- |
| | |
| Cellules ciliées de l'oreille (cristae), lignée Brn3c-GFP, une atteinte de cette structure peut conduire à des défauts d'équilibre et d'audition | Protéine Tau humaine exprimée dans le système nerveux (vert) en interaction avec la microglie (rouge) |
Group
Mireille Rossel, scientific leader
Maître de conférences, EPHE

Contact: mireille.rossel(at)umontpellier.fr / mireille.rossel(at)ephe.sorbonne.fr

Téléphone : 04 67 14 38 15
Nicolas Cubedo, head of zootechnics and microinjection
Assistant ingénieur Inserm

Contact: nicolas.cubedo(at)umontpellier.fr

Téléphone : 04 67 14 38 15
References
Barbereau C, Yehya A, Silhol M, Cubedo N, Verdier JM, Maurice T, Rossel M. Alterations in Brain-Derived Neurotrophic Factor signaling contribute to tauopathy development in zebrafish. Pharmacol Research, 2020, 158:104865. doi: 10.1016/j.phrs.2020.104865.
Laroui N, Cubedo N, Rossel M, Bettache N. Improvement of cell penetrating peptide for efficient siRNA targeting of tumor xenografted in zebrafish embryos. Advanced Therapeutics, 2020, Volume 3, Issue 2, doi.org/10.1002/adtp.201900204.
Chudinova A, Rossel M, Vergunst AC, Le Masson G, Camu W, Raoul C, Lumbroso S and Mouzat K. In vivo experimental models. Amyotrophic Lateral Sclerosis and Frontotemporal Degeneration , 2019, 20: 160–18.
Arribat Y, Mysiak KS, Lescouzères L, Boizot A, Ruiz M, Rossel M and Bomont P. Sonic Hedgehog repression underlies gigaxonin mutation-induced motor deficits in giant axonal neuropathy. J. Clin. Invest. 2019, 129: 5312–5326.
Angebault C, et al. Recessive mutations in RTN4IP1 cause isolated and syndromic optic neuropathies. American Journal of Human Genetics, 2015,; 97:754-60.
Huc-Brandt S, Hieu N, Imberdis T, Cubedo N, Silhol M, Leighton PLA et al. Zebrafish prion protein PrP2 controls collective migration process during lateral line sensory system development. PloS One 2014; 9: e113331.
Figures
Cellules ciliées de l'oreille de larve de poisson-zèbre, marquées par la protéine fluorescente verte GFP. L'oreille est délimitée par les pointillés blancs et contient 3 groupes visibles de cellules ciliées, les cristas (encadrés blancs), dont les longs cils sont caractéristiques. Un agrandissement d'un des groupes montre la structure de ces cellules. Une atteinte de cette structure peut conduire à des défauts d'équilibre et d'audition.