Group 2: Cellular determinants of neuroprotection
About
Among the cellular determinants of neurodegenerative processes observed in all neurodegenerative diseases, mitochondrial dysfunction, endoplasmic reticulum (ER) stress and alteration of the ER-mitochondria communication appeared as common tracks largely sustaining the maintenance of toxic events. Indeed, interactions between ER and mitochondria are altered in all neurodegenerative pathologies and numerous genetic diseases. The question of the role of the highly functionalized domains of interaction between ER and mitochondria, known as MAMs, is currently a hot topic. MAM are stabilized by proteic bridges and sequester numerous proteic assemblies, where focused Ca2+ exchanges are driven by IP3 receptors on ER and VDAC1/MCU complexes on mitochondrial membranes. In Alzheimer's disease (AD), for instance, presenilins are expressed in MAMs and Aβ toxicity affects ER–mitochondria contacts. The altered microtubule associated protein Tau has an impact on the ER stress and UPR response that seems dependent of the mutation and/or the oligomer status.
We have previously shown that agonists activating the sigma-1 receptor (S1R), a protein highly concentrated in MAMs, resulted in an effective neuroprotection in animal models of AD or amyotrophic lateral sclerosis (ALS). Based on expertise in neuropharmacology, molecular genetics and cellular biology, our team develops a global project targeting these cellular determinants of neurodegeneration with a particular focus on S1R as: (1) a prototypic chaperone enabling functional restoration of ER-mitochondria communication and (2) a target platform for the development of innovative candidate drugs, in the tracks of Blarcamesine or Pridopidine, developed in AD, Huntington's disease and ALS.
Our team strategy, summarized in the following scheme, is developed in 4 complementary lines.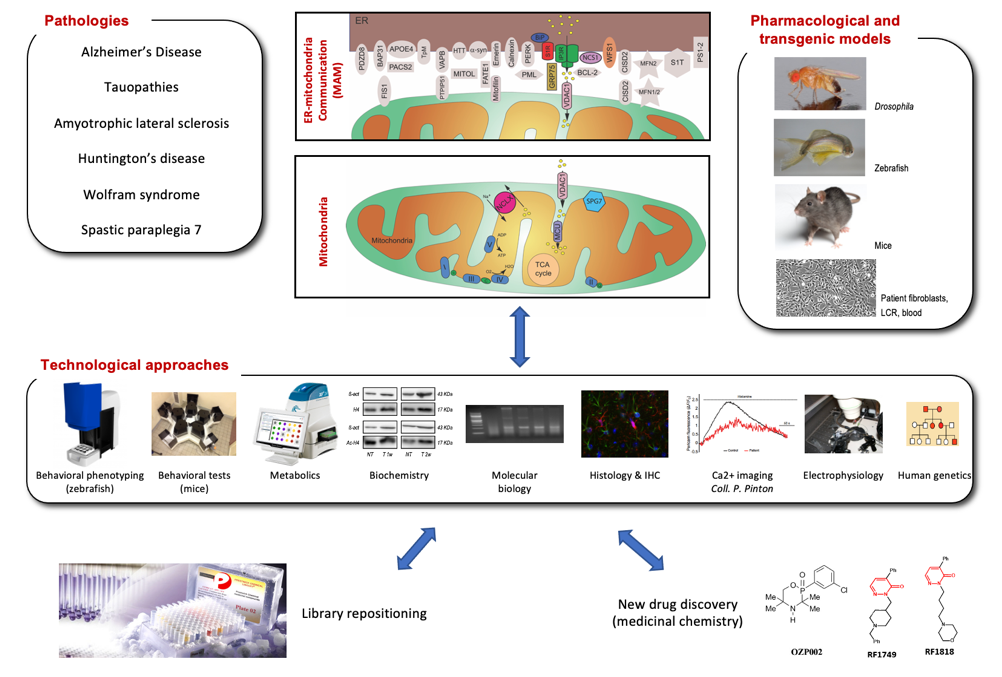 Project 1. Communication deficit between ER and mitochondria in neurodegenerative diseases: from pathophysiology to therapy (Group leader: Benjamin Delprat)
Project 2. Counteracting mitochondrial dysfunctions in neurodegenerative diseases (group leader: Jean-Charles Liévens)
Project 3: Pathophysiological ER stress response in Tauopathies (project leader: Mireille Rossel)
Project 4: Drug development programs: S1R agonists, FENM and beyond (project leader: Tangui Maurice)
Group
Tangui Maurice, group leader, Director, MMDN
Research Director, CNRS

Contact: tangui.maurice(at)umontpellier.fr

Phone: + 33/04 67 14 32 91
Benjamin Delprat
Research Fellow, Inserm

Contact: benjamin.delprat(at)inserm.fr

Phone: 04 67 14 36 23
Jean-Charles Lievens
Research Fellow, CNRS

Contact:jean-charles.lievens(at)umontpellier.fr

Phone : 04 67 14 32 85
Cécilia Marelli
PH, CHU

Contact: c-marelli(at)chu-montpellier.fr

Phone: 04 67 14 42 70
Mireille Rossel
Lecturer, EPHE

Contact: mireille.rossel(at)umontpellier.fr / mireille.rossel(at)ephe.sorbonne.fr

Phone : 04 67 14 38 15
Sylvain Bartolami
Doctor, Lecturer, University of Montpellier

Contact: sylvain.bartolami(at)univ-montp2.fr / sylvain.bartolami(at)umontpellier.fr
Aline Freyssin
REST Project Manager

Contact:

Phone:
Jérome Sarniguet
Engineer, Inserm

Contact: jérome.sarniguet(at)inserm.fr

Phone: 04 67 14 38 15
Nicolas Cubedo
Assistant Engineer, Inserm

Contact: nicolas.cubedo(at)umontpellier.fr

Phone: 04 67 14 38 15
Amandine Peyrel
Engineer, CDD

Contact: amandine.peyrel(at)umontpellier.fr

Phone: 04 67 14 36 23
Morgane Denus
Engineer

Contact: morgane.denus(at)umontpellier.fr

Phone: 04 67 14 36 23
Elodie Richard
Post-doctoral Fellow

Contact:

Phone :
Allison Carles
Phd Student

Contact:

Phone:
Lucie Crouzier
PhD Student

Contact: lucie.crouzier(at)umontpellier.fr

Phone: 04 67 14 36 23
Loic Mele
PhD Student

Contact:

Phone :
References
Couly S, Allison C, Morgane D, Benigno-Anton L, Maschat F, Maurice T. Exposure of R6/2 mice in an enriched environment augments P42 therapy efficacy on Huntington's disease progression. Neuropharmacology. 2021 Mar 15;186:108467. doi: 10.1016/j.neuropharm.2021.108467.
Lee PT*, Liévens JC*, Wang SM*, Chuang JY, Wu HE, Chang WC, Maurice T, Su TP. Sigma-1 receptor chaperones rescue nucleocytoplasmic transport deficit seen in ALS. Nat Commun. 2020 Nov 4;11(1):5580. doi: 10.1038/s41467-020-19396-3.
Crouzier L, Couly S, Roques C, Peter C, Belkhiter R, Arguel Jacquemin M, Bonetto A, Delprat B, Maurice T. Sigma-1 (σ1) receptor activity is necessary for physiological brain plasticity in mice. Eur Neuropsychopharmacol. 2020 Sep 3:S0924-977X(20)30260-1. doi: 10.1016/j.euroneuro.2020.08.010.
Barbereau C, Yehya A, Silhol M, Cubedo N, Verdier JM, Maurice T, Rossel M. Neuroprotective Brain-Derived Neurotrophic Factor signaling in the TAU-P301L tauopathy zebrafish model. Pharmacol Res. 2020 May 14:104865. doi: 10.1016/j.phrs.2020.104865.
Couly S, Khalil B, Viguier V, Roussel J, Maurice T, Liévens JC. Sigma-1 receptor is a key genetic modulator in amyotrophic lateral sclerosis. Hum Mol Genet. 2020 Mar 13;29(4):529-540. doi: 10.1093/hmg/ddz267.