Zebrafish platform
About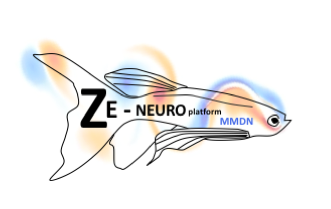 The zebrafish facility is dedicated to the development of new in vivo models in order to understand the neurodegenerative process.
Our expertise is established on the development and regeneration of both the central nervous system and a mechano-sensoriel system, the posterior lateral line. We are actually housing 20 transgenic and mutant lines.
Our current projects are focused on the study of the process of neurodegenerative diseases and particularly tauopathies, related with the analysis of neurotrophic factors deregulated (BDNF, Reg-1α and chemokines) during the first steps of the neurotoxicity recorded as early as two days of development in zebrafish. The early stages of neuronal damage can therefore be followed in living organism as well as the cellular level. Our models allow us to test new protein candidates or therapeutic drugs that may slow down neurodegeneration.
The zebrafish facility is open to the scientific community and we have ongoing collaborations such as:
impact of pesticides and endocrine disruptors (V. Perrier, Team T. Maurice, U1198)
Inactivation of the GAN gene (P. Bomont, INM, Montpellier)
functional analysis of candidate genes disrupted in retinitis pigmentosa (B. Boquet, INM, Montpellier)
In addition, our facility is involved in the functional validation of therapeutics compounds and tools:
nanoparticles (IBMM, Montpellier)
theranostic compounds (EPHE- Université de Bourgogne)
aging protective factors, such sirtuin inhibitors (EPHE-Genethon)
In addition, we train students at master and PhD levels, post-doctorate and researchers for microinjection techniques at different embryonic stages and for embryo and larvae imaging. All facility users are tutored for good practices of the zebrafish model (zootechnic, experimentation, regulations).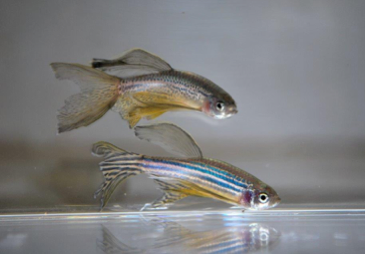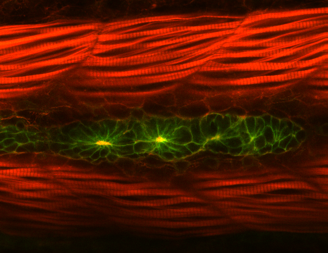 Team
Mireille Rossel, scientific officer
Lecturer EPHE

Contact: mireille.rossel(at)umontpellier.fr / mireille.rossel(at)ephe.sorbonne.fr

Phone: 04 67 14 38 15
Nicolas Cubedo
Assistant Engineer Inserm

Contact: nicolas.cubedo(at)umontpellier.fr

Phone: 04 67 14 38 15
Clément Barbereau
PhD student

Contact : clement.barbereau(at)umontpellier.fr

Phone : 04 67 14 38 15
References
Nasri A, Valverde AJ, Roche DB, Desrumaux C, Clair P, Beyrem H, Chaloin L, Ghysen A, Perrier V (2016) Neurotoxicity of a Biopesticide Analog on Zebrafish Larvae at Nanomolar Concentrations. Int J Mol Sci. 17 :21-37.
Angebault C, et al. Recessive mutations in RTN4IP1 cause isolated and syndromic optic neuropathies. American Journal of Human Genetics, 2015, 97(5):754-60.
Huc-Brandt S, Hieu N, Imberdis T, Cubedo N, Silhol M, Leighton PLA et al. Zebrafish prion protein PrP2 controls collective migration process during lateral line sensory system development. PloS One, 2014; 9: e113331.
Gamba L, Cubedo N, Ghysen A, Lutfalla G, Dambly-Chaudiere C. Estrogen receptor ESR1 controls cell migration by repressing chemokine receptor CXCR4 in the zebrafish posterior lateral line system. Proc Natl Acad Sci U S A, 2010; 107: 6358358863
Cubedo N, Cerdan E, Sapede D, Rossel M. CXCR4 and CXCR7 cooperate during tangential migration of facial motoneurons. Molecular and Cellular Neuroscience, 2009, 40:474-484.
Sapede D, Rossel M, Dambly-Chaudiere C, Ghysen A. Role of SDF1 chimiokine in the development of lateral line efferent and facial motor neurons. Proc Natl Acad Sci U S A, 2005 ;102:1714-8.