TEAM 6: Environmental impact in Alzheimer's Disease and Related Disorders
Presentation
Sporadic Alzheimer's disease (AD), the most common cause of dementia in the elderly, is characterized by a progressive impairment of cognitive functions, the development of psychological symptoms and the presence of senile plaques and neurofibrillary tangles (NFTs) in brain. Plaques are composed of insoluble extracellular aggregates consisting mainly of amyloid-β (Aβ) peptides, while NFTs are the result of hyper- and abnormal phosphorylation of the microtubule-stabilizing protein Tau.
Some factors have been identified to increase the risk to develop AD. The most important risk factors, age, family heredity, cannot be changed, but emerging evidence suggests there may be other factors that can be influenced. In people with early-onset AD (less than 5% of patients), a genetic mutation is usually the cause. By contrast, late-onset AD (or sporadic AD, more than 95% of patients) arises from a complex series of brain changes that occur over decades. The causes seem to be the result of a combination of genetic susceptibility, environmental and lifestyle factors.
On the basis of our respective experiences, the principal objective of the team is to characterize in vivo and in vitro, the impact of environmental perturbations, in particular chronic stress (L Givalois), oxidative stress (C Desrumaux), and chronic exposure to low doses of pesticides (V Perrier) in the etiology of AD. In parallel, we evaluate innovative strategies to counteract deleterious effects of these risk factors, in particular using intranasal administration. We will focus on the phospholipid-transfer protein (PLTP, involved in the control of oxidative stress), the corticotrope axis (or HPA axis, involved in stress responses) and the brain-derived neurotrophic factor system (BDNF, involved in neuroprotective mechanisms). For this purpose, we will use chronic AD models (transgenic mouse and Zebrafish lines) and an acute model that we particularly contributed to develop and characterize, the Aβ25-35 model.
These projects are currently supported by public contracts (Labex LipSTIC; France Alzheimer ; Fédération pour la Recherche sur le Cerveau ; PHC Cai Yuanpei - Campus France; MUSE2018 – Montpellier University of Excellence; La region Occitanie) and a collaboration with private pharmacological company (Inserm MTA with Corcept Therapeutics).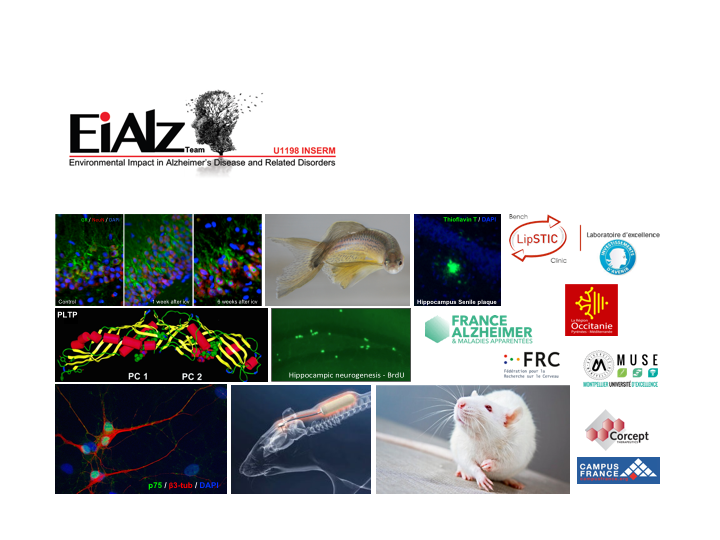 Group
Laurent Givalois, team leader
Scientific Officer (CR1 CNRS)

Contact: laurent.givalois(at)umontpellier.fr

Phone : 04 67 14 38 14
Catherine Desrumaux, team leader
Scientific Officer (CR1 Inserm)

Contact: catherine.desrumaux-piazza(at)umontpellier.fr

Phone: 04 67 14 36 89
Nathalie Chevallier
MC University of Montpellier

Contact: nathalie.chevallier(at)umontpellier.fr

Phone: 04 67 14 36 89
Véronique Perrier
CR1 CNRS

Contact: veronique.perrier(at)umontpellier.fr

Phone : 04 67 14 33 87
Joan Torrent i Mas
CR1 Inserm

Contact: joan.torrent(at)inserm.fr

Phone : 04 67 14 48 30
Elisabeth Huetter
TEC EPHE

Contact: elisabeth.huetter(at)umontpellier.fr

Phone: 04 67 14 36 89
Charleine Zussy
Postdoctoral fellow

Contact: charleine.zussy(at)umontpellier.fr

Phone : 04 67 14 38 14
Geoffrey Canet
PhD student

Contact : geoffrey.canet(at)umontpellier.fr

Phone: 04 67 14 33 87
Celia Hernandez
PhD student

Contact : celia.hernandez(at)umontpellier.fr

Phone: 04 67 14 36 89
Lucie Salvador Prince
PhD student

Contact : lucie.salvador(at)umontpellier.fr

Phone: 04 67 14 33 87
Eloïse Pascal
Engineer

Contact : eloise.pascal(at)umontpellier.fr

Téléphone : 04 67 14 36 89
References
Pineau F, Canet G, Desrumaux C, Hunt H, Chevallier N, Ollivier M, Belanoff JK, Givalois L (2016). New selective glucocorticoid receptor modulators reverse amyloid-β peptide-induced hippocampus toxicity. Neurobiol Aging 45: 109-22.
Imberdis T, Ayrolles-Torro A, Duarte, Rodrigues A, Torrent J, Alvarez Martinez MT, Kovacs GGK, Verdier JM, Robitzer M, Perrier V (2016). A fluorescent oligothiophene-Bis-Triazine ligand interacts with PrP fibrils and detects SDS-resistant oligomers in human prion diseases. Mol Neurodeg 11: 11.
Acquatella-Tran Van Ba I, Imberdis T, Perrier V (2013) From prion diseases to prion-like propagation mechanisms of neurodegenerative diseases. Int J Cell Biol 2013: 975832.
Brureau A, Zussy C, Delair B, Ogier C, Ixart G, Maurice T, Givalois L (2013) Deregulation of hypothalamic-pituitary-adrenal axis functions in an Alzheimer's disease rat model. Neurobiol Aging. 34(5): 1426-39.
Desrumaux C, Pisoni A, Meunier J, Deckert V, Athias A, Perrier V, Villard V, Lagrost L, Verdier JM, Maurice T (2013) Increased amyloid-beta peptide-induced memory deficits in phospholipid transfer protein (PLTP) gene knockout mice. Neuropsychopharmacol 38: 817-825.
Zussy C, Brureau A, Keller E, Marchal S, Blayo C, Delair B, Ixart G, Maurice T, Givalois L (2013) Alzheimer's Disease Related Markers, Cellular Toxicity and Behavioral Deficits Induced Six Weeks after Oligomeric Amyloid-beta Peptide Injection in Rats. PLoS One 8: e53117.
Ayrolles-Torro A, Imberdis T, Torrent J, Toupet K, Baskakov IV, Poncet-Montange G, Gregoire C, Roquet-Baneres F, Lehmann S, Rognan D, Pugniere M, Verdier JM, Perrier V (2011) Oligomeric-Induced Activity by Thienyl Pyrimidine Compounds Traps Prion Infectivity. J Neurosci 31: 14882-14892.
Zussy C, Brureau A, Delair B, Marchal S, Keller E, Ixart G, Naert G, Meunier J, Chevallier N, Maurice T, Givalois L (2011) Time-course and regional analyses of the physiopathological changes induced after cerebral injection of an amyloid beta fragment in rats. Am J Pathol 179: 315-334.